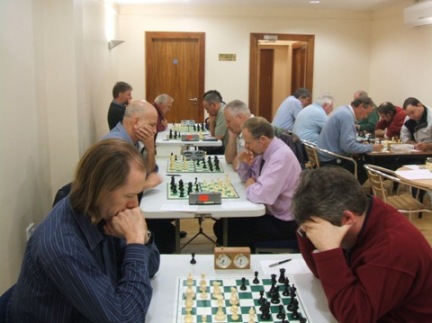 Welcome to Durham City Chess Club!
We currently run four teams in the Durham County League, organise individual tournaments, and hold regular training sessions.
We welcome new players of all standards, including juniors.
Interested in joining? Come along on a Wednesday night 7pm - 10pm or contact Ken Neat on 0191 386 4795.
Junior Club
Our Junior Club is held on Wednesday nights in Antioch House, Crossgate, Durham, DH1 4PR, from 5.45pm to 6.45pm, before the main club which starts at 7pm. The Junior Club normally meets during school term, but not during school holidays (including half-term holidays). The Club starts in September and normally finishes at the half-term holiday after Easter. Juniors of all ages and abilities are welcome.
For further information, please contact Douglas Smith on 0191 386 3027.
News Headlines
| | |
| --- | --- |
| 2018-03-28 | County League Champions - Durham Abbots |
| 2018-03-27 | Ron Evers winners |
| 2018-04-22 | County Champion - Thomas Eggleston |
| 2018-04-25 | 2017/18 Club Champions |
| 2018-02-28 | Club Closed |
| 2017-11-04 | Northumbria Junior U-11 |
Where to Find us
The club meets on Wednesday evenings 7-10 pm (Juniors 5.45-6.45pm) in Antioch House, Crossgate, Durham DH1 4PR, directly opposite the entrance to St Margaret's Church.
We meet most Wednesdays from September through to May or June. The Junior Club does not meet during school holidays.
View Larger Map