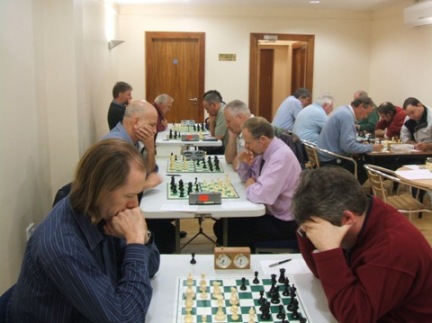 Welcome to Durham City Chess Club!
We currently run four teams in the Durham County League, organise individual tournaments, and hold regular training sessions.
We welcome new players of all standards, including juniors.
Interested in joining? Come along on a Wednesday night 7pm - 10pm or contact Ken Neat on 0191 386 4795. The season usually runs from the first Wednesday in September through to Easter with a 2 or 3 week break for Christmas.
Junior Club
Our Junior Club is held on Wednesday nights in Antioch House, Crossgate, Durham, DH1 4PR, from 5.45pm to 6.45pm, before the main club which starts at 7pm. The Junior Club normally meets during school term, but not during school holidays (including half-term holidays). The Club normally starts in September on the Wednesday following the wee the schools start and finishes at Easter. Juniors of all ages and abilities are welcome.
For further information, please contact Douglas Smith on 0191 386 3027.
Club Online only due to COVID-19
The Adult and Junior Clubs are currently not meeting for over the board chess due to the current COVID-19 situation. We will resume when possible but this does not seem likely until the 2021/22 season.
We are playing chess online via Lichess using our Lichess Durham City Team and we will play online League matches and Club Championship games as well as holding informal tournaments and analysis sessions on Google Meet. Sign up to Lichess for free (and no ads) at Lichess Registration.
Robin is organising a virtual chess club on Wednesdays, including chat and analysis of games and positions on Google Meet, and playing chess on Lichess. If you are interested in joining, look out for the links in Ken's emails, or get in touch if you're not getting the emails.
Our Junior Club is meeting online via Lichess. To join, sign up to Lichess at Lichess Registration and then register for the Team on Lichess using our Lichess Durham City Juniors Team. You will also need to contact Douglas Smith to register, giving each junior's lichess id and real name, before being accepted into the junior club team.
News Headlines
| | |
| --- | --- |
| 2021-02-13 | Maurice Bell |
| 2020-03-25 | Club Championships |
| 2020-03-23 | Virtual Chess Club |
| 2020-03-16 | COVID-19 -- Club Closed |
| 2019-04-07 | Club Championship Playoff |
| 2019-04-07 | Minor Club Champion |
Where to Find us
The club meets on Wednesday evenings 7-10 pm (Juniors 5.45-6.45pm) in Antioch House, Crossgate, Durham DH1 4PR, directly opposite the entrance to St Margaret's Church.
We meet most Wednesdays from September through to Easter. The Junior Club does not meet during school holidays.
View Larger Map
Maurice Bell Obituary
We are very sad to announce that a longstanding and much valued member of our club, Maurice Bell, passed away recently. He will be greatly missed. Ken Neat has written the following obituary.
I'm very sorry to have to report that Maurice Bell, who had been a member of our club for over 20 years, died earlier this week. I received the sad news from his son Keith, who kindly sent me the attached files.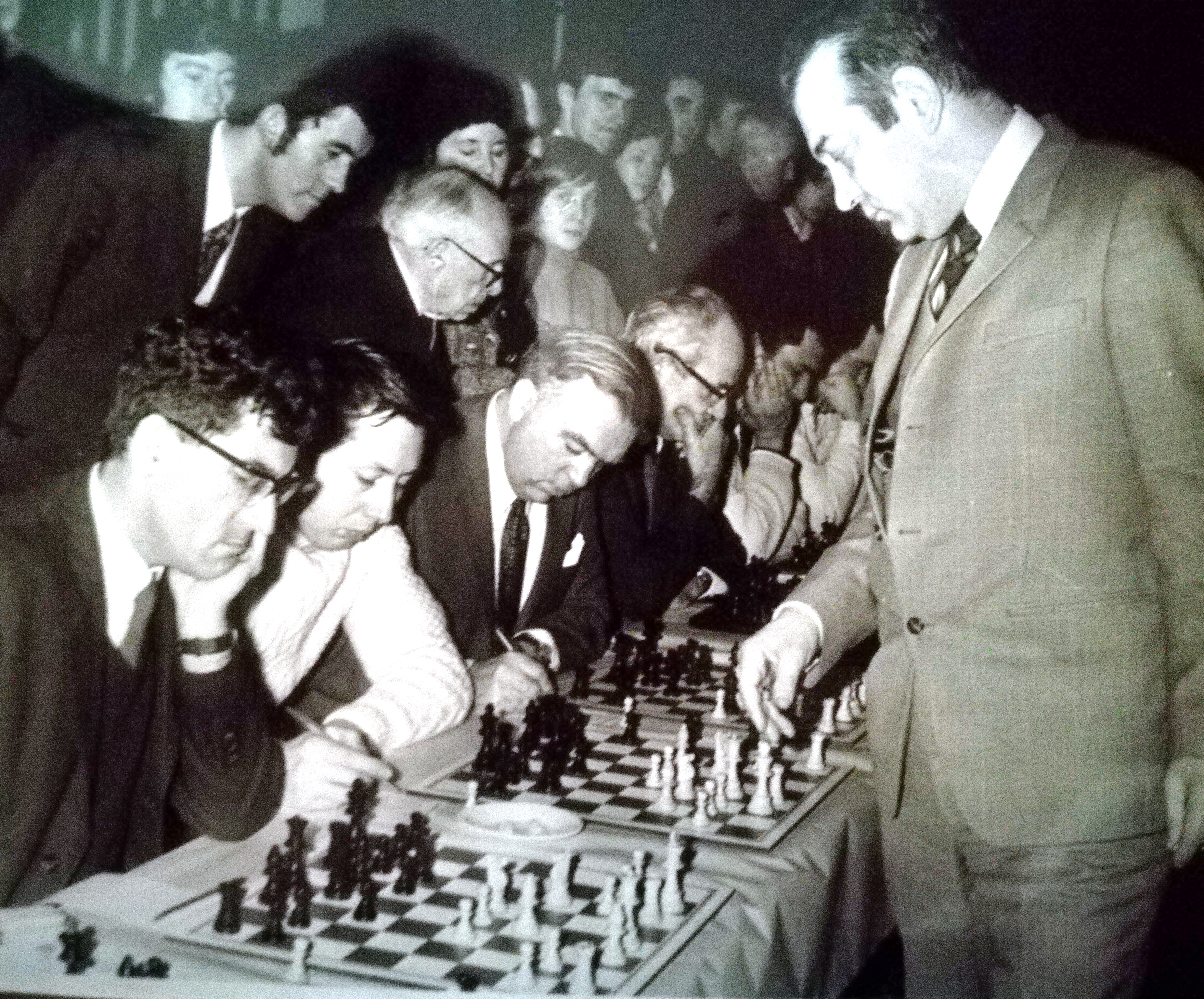 The photograph – a wonderful study in concentration – shows Maurice (in the white sweater) playing in a simultaneous display in 1972 by the legendary Viktor Korchnoi. Seated to Maurice's right is his great friend Roger Simpson [another much missed former member].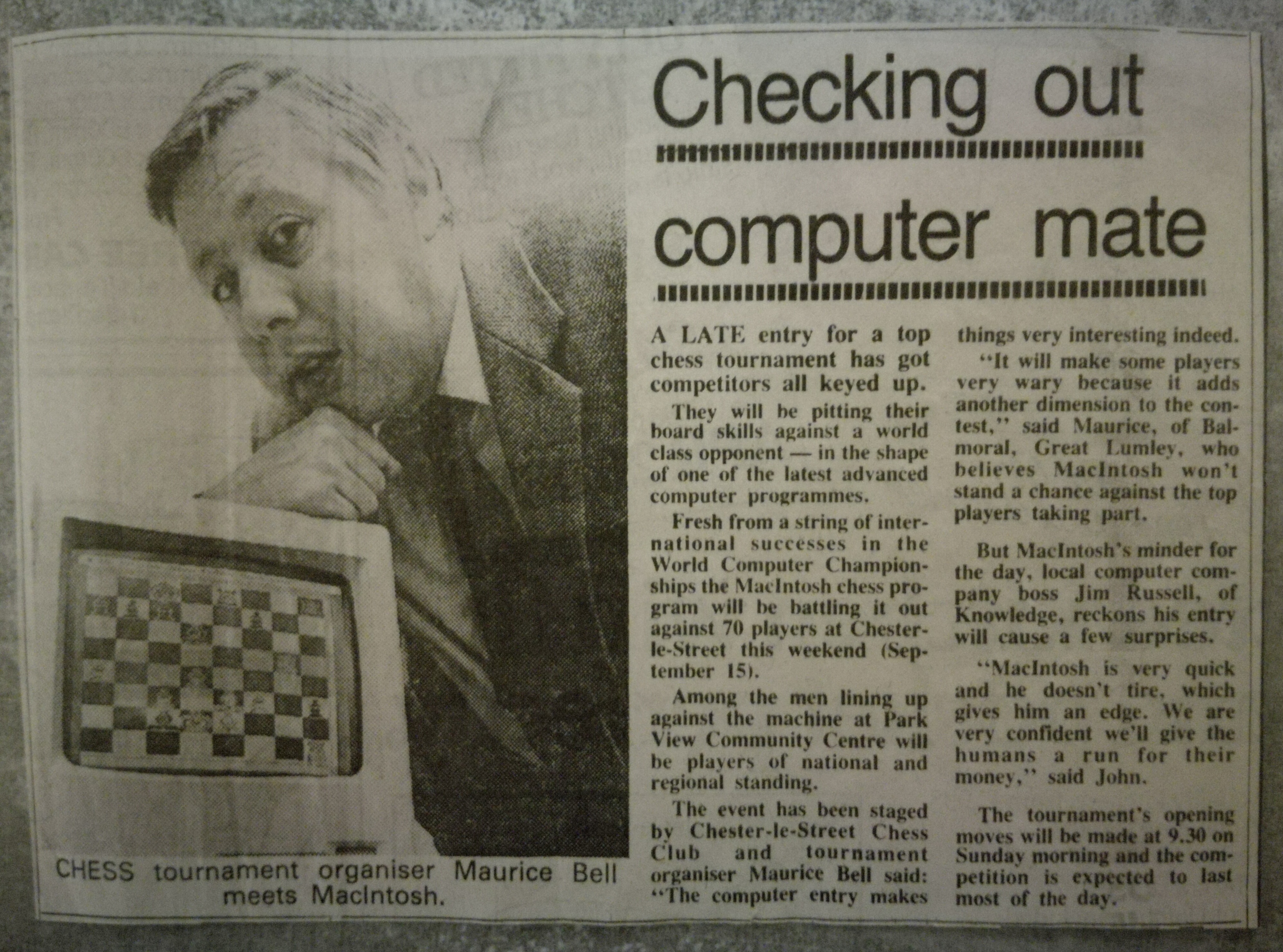 The newspaper feature is from among the numerous books, programs, news- paper clippings and other chess memorabilia that Keith has found among his dad's belongings.
I last spoke to Maurice when I phoned him just before Christmas. He was obviously struggling health-wise and finding it hard to come to terms with the death of his wife Mary a few months earlier, but he was still interested in hearing about events in the local chess scene.
Maurice originally played for Chester- le-Street, and when the club folded he and Roger Simpson came and joined Durham City. (Maurice liked to refer to Roger as 'His Lordship', though not to his face, of course!). That's when I really got to know him, although we had met many times before, at meetings of the County Association (where he would sometimes ruffle a few feathers!), at local congresses, where he often officiated, and especially at County Matches, when forty Durham players would spend a whole Saturday travelling by coach to play the likes of Cumbria, Cheshire, Lancashire and Yorkshire in far-away venues.
This week I contacted another former Chester-le-Street member, Tom Reynolds, who has lived in Leicestershire for many years, and Tom has provided some wonderful memories:
Maurice was a very good fast bowler for Kibblesworth and had a bit of a reputation for being a rather aggressive character on the pitch.
Over the chess board he had a never-say-die attitude and I lost count of the number of swindles he managed to pull off from seemingly hopeless positions. He was never afraid to speak his mind, which occasionally upset some people, but essentially he was a very amiable character who loved a good chat over a few beers.
In later years after the Chester-le-Street club folded he not only joined Durham City, but regularly met Roger Simpson at his house to play a few games of lightning chess, and they teamed up to play several 'correspondence' games with myself over many years by email (although I don't think Maurice had a computer himself).
However, my favourite recollection of him in the chess arena is the following episode:
How one serial abuser of clocks was unscrupulously (and, admittedly, totally unsportingly and illegally) punished by Maurice Bell ...
At one time, Chester-le-Street Chess Club used bridge tables for chess matches. These could be rather unstable but were sturdy enough under normal conditions. However, they didn't offer much spare room at the sides for scoresheets and clocks – enough, but it was rather tight.
During the mid-70s, Durham University had a player called Mike Burt who, although a pleasant enough lad and a decent 160-170 player, was a habitual time-scrambler. As each time control approached, he always became more and more violent in his use of the clock.
Unfortunately for Mike he also had a rather eccentric habit of emptying his jacket pockets of all manner of pens, pencils and rubbers (usually at least half a dozen) before starting the game and balancing them precariously on the edge of the table beside his scoresheet. He then (seemingly at random) used the first of these writing implements to come to hand for recording each successive move.
Usually, as he entered his customary manic phase and his actions inevitably became more and more vigorous, every time he smashed the clock the bridge table would bounce and all his pens would roll onto the floor. Amazingly, he always then dived under the table to retrieve them before it was his turn to move again – thereby depriving himself of thinking time on his opponent's clock.
In one match, Maurice Bell, our club treasurer (not playing in the match but looking on with increasing alarm at the prospect of the destruction of a valuable clock) decided enough was enough and during the usual time-scramble tapped him on the shoulder ...
'Yes?'
'Are you in time trouble?'
'Yes, yes I am!!'
Returns to thinking of his move. Another tap on the shoulder.
'Yes?'
'Do you often get into time trouble then?'
Pause for thought.
'Yes, I often do.'
Again returns to thinking of his move. Another tap on the shoulder.
'Yes?'
'Do you realise that if you didn't make all your pens fall on the floor by abusing the clock you'd have much more time to think?'
More prolonged pause for thought.
'Yes, I suppose that's right .... oh look, my flag's fallen!!'
I doubt if the lesson had any long-term effect on his time management though!
Tom also recalled a non-chess event which has stuck in his mind:
Maurice & Mary were visiting us here in Leicestershire where we live opposite a local cricket ground and Maurice and I decided to go and watch the Saturday afternoon match. It was a hot day and the ales flowed freely as we stood in front of the pavilion but to the right of the batsman's line of sight. Suddenlythe batsman shouted angrily at Maurice not to keep moving around. Maurice replied that he hadn't moved his feet at all, to which he got the response 'No, but you're swaying a lot!'.
Although, as Tom describes, Maurice was a determined fighter at the chess board, in his later years he more often than not was content to split the point. So he would methodically exchange the pieces, resulting in a level endgame, whereupon he would look across at his opponent and exclaim: 'Draw!?', provoking amused smiles on the faces of the onlookers. I will miss that...
Keith Bell has said that the family would like to do a little something – a donation, sponsorship or a cup. This would be a fine way of remembering Maurice, who did so much for chess in County Durham